Because 77% of ViewletBuilder Users create surveys and assessments, we wanted to show our gratitude by offering you the power of ViewletACE (Ask, Collect, Evaluate) at a very low special rate: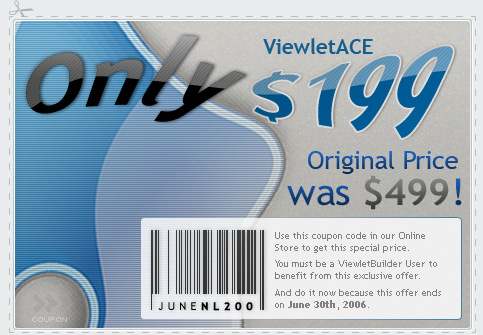 Come join the Qarbon User Forum! In an effort to provide you the BEST customer service possible, we felt it was important to create a place to communicate with you about Tips & Tricks, Bug Fixes, Support Questions, New Products, etc. Do you have tips and tricks to share? Feature suggestions?
Whether you have information to provide or you're searching for information, we hope this morphs into a wealth of informationfor you to use and contribute back to!
Click on the following link to access it: http://forum.qarbon.com/

Dear Subscribers,

First I wanted to introduce myself. My name is Jay Lucke and as of April 1st I have taken over as the President/CEO of Qarbon. I come from the Enterprise software world and am eager to make a difference here. I reviewed our product roadmap today and there are some exciting new features and products coming your way very soon. We will also continue focusing on creating Enterprise solutions with ViewletCentral and bringing on other 3rd party products to add to our offerings.

Expect to hear from us at least once a quarter from now on. We want to do a better job keeping in touch with all of you. In the meantime, we encourage you to use the Forum to post feature requests. We have also added alot of Tips & Trick which are searchable.

We are currently wrapping up development on the long awaited ViewletBuilder 2006 product, and it should be available to beta test very soon. Looking ahead on the roadmap we are also working on Version 2.0 of our ViewletCentral product, which will be a major UI overhaul with lots of new features including expanded reporting and API capabilities.

That's all for now!

Take Care,
Jay Lucke

Creating content can be a challenge when it comes to picking a font, font size, text color, etc.

What if you create your quiz or survey and realize once you are done something just doesn't look quite right?

With ViewletACE it's easy with the Format Painter to quickly and easily change any aspect of your design.

If you have any questions or comments, please send them to marketing@qarbon.com. Thank you for using our products.

The Qarbon Team



You are receiving this newsletter because you provided us your email to send you updates about Qarbon's Presentation Software. If you wish to be removed from our mailing list just reply to this NewsLetter with "remove" in the subject line.